By Admin 24 Jun, 2021
#Unlocking #Covid-19 #safebacktooffice #contactlessattendance #bepositive
#Unlocking #Covid-19 #safebacktooffice #contactlessattendance #bepositive
As a known proverb says "The show must go on" unlocking has been initiated. Businesses are trying to get the employees back, and safe to office, so that they can service the customers & get the business to pre-covid days.
The new norms are set. The way people will have to live life till we find the vaccine to cure the COVID-19 is defined. SOP's have been rolled out. The basics are clear.
The world has learnt how to WFH, but we also realize that human beings are social animals and cannot be confided to homes.
Safely returning to work place is the current phase of our life in the Covid era. HR and admins have a huge task in hand. They are quickly learning & aligning their processes to real life situations. Standard procedures and instructions are in place, what norms must be followed. But every organisation has its own set of unique problems.
Here is a list of top 3 things that the HR and admin have to consider to ensure a safe return environment for employees:
Contactless solutions: From entry to exist for all employees & visitors one needs to implement contact less procedures. Few things that can be implemented and available in market

Face detection biometric devices

QR based visitor access system

Auto sensor doors
 Social distancing planner: It is important that distance are strictly maintained between co-workers & strict no contact protocols are implemented and followed. Tips on how this can be achieved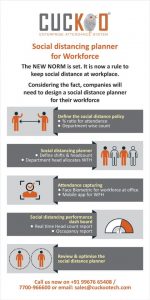 Identify resources that needs to work from office & for them WFH is no option

Create shifts for people who have to compulsory attend office

Use of technology to achieve the desired plan with efficiency
In case of walking customer outlets, like retail stores, restaurants, hotels & public places, restrict the no. of people that can visit in a day. Make all visits appointment based
Workplace protocol: The rules for office access, attendance & accessing to one's desk has changed. We have to be careful not for us, but other co-workers too.
Temperature checking at entry & exit

Sanitisation of work place on regular frequency

Aarogya Setu app installed for each employee & visitor entering the premises

Keep 6 foot distance between two persons

Self-declaration of each person entering the premises of not coming from any contaminated zone.

Disposable cutlery at cafeteria.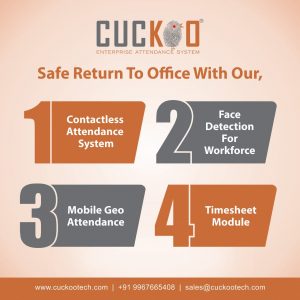 While we have to be strong and come out for all essential activities. We have to be careful too. By being disciplined we shall be able to minimise the spread of the infection. Use of contactless technology will enable to achieve the desired protocols & we can soon get buzzing at our workplace.
If your organisation has successfully implemented a safebacktooffice policy. Kindly share me details on dhwani@opportune.in & help other organisations to adopt
Back